The holiday season is a time to be thankful for family, friends and prosperity. It's also a time to share our blessings with others. At Subaru of America and Doug Smith Subaru, it is no different and that's why we are launching the "Share the Love" event for the 7th consecutive year.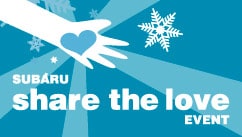 During Share the Love, for every Subaru that is leased or purchased between November 20, 2014 and January 2, 2015, Subaru of America makes a $250 donation to local and national charities.
This year Doug Smith Subaru has selected The Autism Council of Utah as the local charity and Subaru of America continues to support the ASPCA, Make a Wish Foundation, Meals on Wheels and National Parks Foundation. They are all great charities that do amazing work and change lives! As the purchaser, you get to decide where your $250 goes and you can pick one charity or have the $250 split amongst all 5, if they all touch your heart.
In 2014, it is anticipated that donations will exceed $50 million total since the start of the program. If you are in the market for a new car, there's no better choice than a Subaru! And when you purchase during the Share the Love event, you get more than just a new car.
More details and frequently asked questions about the Share the Love event can be found
here
.
Doug Smith Subaru is located in 501 West Main Street, American Fork, Utah. You can reach them directly at (888) 485-8396.