The 2021 Subaru Love Promise Community Commitment Award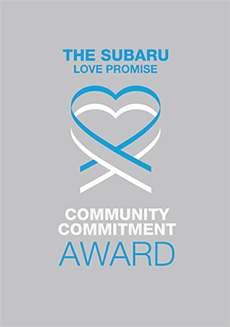 We've been nationally recognized for our dedication to our community and the Subaru Love Promise.
We're honored to receive the 2021 Subaru Love Promise Community Commitment Award. This award nationally recognizes Subaru retailers who are making the world a better place while demonstrating an outstanding commitment to supporting passions and causes in local communities. These efforts are focused in important areas such as the environment, community, health, education, and pets.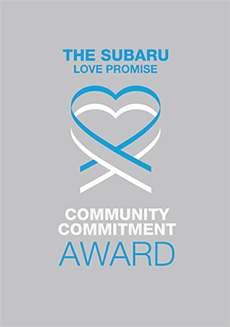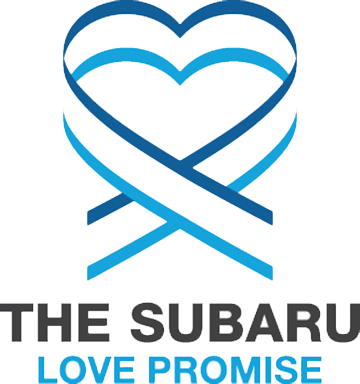 What is the Subaru Love Promise?
Subaru and our retailers believe in making the world a better place and the Subaru Love Promise is our vision of respecting all people. This is our commitment to show love and respect to our customers and to work to make a positive impact in the world.
How is Doug Smith Subaru dedicated locally to the Love Promise?
Our Love Promise can be seen in various partnerships with local charities and non-profits. We're grateful for the opportunity, not only to be a part of our community, but to serve it as well.
Brigham Young University, Alpine School District, American Fork High School Marching Band, Bingham, Highland & Cottonwood High Schools
Autism Council of Utah, Forever Young Foundation, Wasatch Adaptive Sports
American Fork Hospital Cancer Center, Community Action, The Leukemia & Lymphoma Society - Utah Chapter
Love Promise Stories from Doug Smith Subaru
Subaru and Doug Smith Subaru believe in making a positive impact on the communities in which we live and work. We uphold that belief through our Love Promise Community Commitment. Every month, we select inspiring stories from customers and partners from around our area who strive to support our collective commitment and feature them here
Doug Smith Subaru & Tabitha's Way Food Bank - Tierney M
Starting November 2021 until the end of the 2021 year, Doug Smith Subaru and their employees partnered with Tabitha's Way Local Food Bank North and the local community to gather much needed food and clothing items – 389 lbs. to be exact! For the month of November, Doug Smith Subaru also donated $50 for every service contract purchased through the dealership. With the service contract donation, Doug Smith Subaru was able to donate $3,350 which results in about 13,400 meals (1,700 families) provided to the community and those who are food insecure, homeless, or struggling. "Doug Smith Subaru consistently goes out of their way for their local community. Just recently, they held a food drive and donated money to us, Tabitha's Way Local Food Pantry North. They not only collected the food, but went out of their way during this busy season to bring it down to our Pantry to meet us all, and interact with our wonderful volunteers. The monetary donation they provided will feed over 1,700 families this coming year. Way to go you guys, keep up the good work!" -Tabitha's Way Local Food Pantry North Doug Smith Subaru is happy to be a part of this amazing community of selfless people and willing helpful hands. We are continuing to gather items until the end of the year, and plan on doing more food drives throughout the next year and more.
---
Senior Dog Finds a Home Thanks to Doug Smith Suba - Shannon E
Hi, my name is Bermuda and I'm a ten-year-old mixed breed who came to the Humane Society of Utah in early September hoping to find a new home. Folks say that senior dogs are the hardest to adopt at any shelter because we come with a variety of health issues and I'm no exception to this rule! I have arthritis in my left hind leg, allergies, and was diagnosed with obesity, which means I am dangerously overweight and needed to improve my diet and exercise more to avoid heart disease and diabetes. I also have severe dental disease and a luxating patella. Utah Humane partnered with Doug Smith Subaru for their Subaru Loves Pets promotion in October, which allowed for my adoption fee to be waived and this helped increased my chances of finding a home. After getting sick and spending some time in foster care, I finally got adopted one month later. Thank you, Doug Smith Subaru for giving all us underdogs at second chance!
---
Doug Smith Subaru Adopts Park View Elementary - Shanna W
Park View Elementary has been fortunate this year to have Doug Smith Subaru adopt our school! They love learning and love helping schools. They collected donations from their employees and customers to provide needed school supplies for our teachers, staff, and students. Six of our teachers were granted $500 each that could be spent on items to supplement and enrich their curriculum. With the money donated, they have been able to purchase books, science materials, math manipulatives, and other supplies. In addition, all of our teachers were given Amazon gift cards to purchase something for their classrooms. Derek Schwendiman, General Manager of Doug Smith Subaru, and a team of employees made a special delivery to our school with a huge load of bright paper, paints, white board markers, and P.E. equipment. The Doug Smith team was greeted by four of our student leaders who expressed sincere appreciation for the gifts. One boy said, "I sure hope our class gets one of those new soccer balls," and was later pleased to find out they did get one. Another student told them, "We will really use these supplies. Thanks so much!" Mrs. Jasperson, a third-grade teacher, told the principal, "Wow, this is wonderful. I spend so much of my own money every year on extra things for my class... These donations help me out—a lot." "I appreciate that a big business like Doug Smith would do something for our school. This is so generous," stated Mrs. Barney, a second-grade teacher. "They don't even know us and did this. It's just so nice."Park View is a great school with wonderful families, but we fall into a difficult category concerning funding. We live in a catchment area that has a mix of middle-income families, but we also have many low-income families that struggle to make ends meet. Our school doesn't qualify for the extra funds that come from Title I, but we don't live in an area of affluence. This means that we do not receive the volume of donations that many of the schools in more affluent areas receive. This is why the donations and grant money given to our teachers from Doug Smith Subaru is all the more meaningful. Many employees and customers from Doug Smith had written notes of encouragement to our students and staff. These messages were arranged into a poster and delivered to our school with the other donations. It's so awesome to see the students and staff walk by and read those notes from people they don't even know, but who care about our school. One note reads, "Park View Rocks!" Well, it is likewise—Park View thinks "Doug Smith Subaru Rocks!"
---
$400,000 Raised for Adaptive Sports Programs - Stephanie M
Doug Smith Subaru was proud to support Wasatch Adaptive Sports in their annual HGGC Steve Young Ski Classic in March 2021. This annual event raises funds to support Wasatch Adaptive Sports and the organization's mission to provide recreational activities and resources for children, adults, and veterans with adaptive needs. Thanks to the amazing Wasatch Adaptive Sports community and support by Doug Smith Subaru, Subaru of America, and other sponsors, the event raised over $400,000! These generous funds have already helped Wasatch Adaptive Sports purchase a second truck and trailer to expand their geographical footprint and reach new students and families in underserved areas. They will also help Wasatch Adaptive Sports provide over 74% of programs on scholarship, introduce new programs such as adaptive mountain biking, and expand partnerships with other community groups that serve the adaptive population. Doug Smith Subaru is proud to support Wasatch Adaptive Sports. "We came to know [Wasatch Adaptive Sports] many, many years ago when my son was diagnosed with autism," said Frank Smith, general manager of Doug Smith Subaru in American Fork, Utah. "I didn't think there was a way in the world that that kid could be taught how to ski, but they had him skiing even before we taught him how to be potty trained. The reason we love to support them is because of the people. They have such good people, and we're just very thankful to be part of the organization." Doug Smith Subaru is proud to support Wasatch Adaptive Sports and their commitment to helping advance recreational activities for children, adults, and veterans with adaptive needs.
---
Skate for Cancer with Millie's Princess Foundation - Doug S
On Saturday, July 10th 2021, Doug Smith Subaru was honorer to be a part of the Skate for Cancer event at the Peaks Ice Arena in Provo Utah. This event is hugely benefited by the involvement of Millie's Princess Foundation. The namesake for this foundation is Millie Flamm, a young girl who was diagnosed with cancer at the age of four. She had her life-long dream of being a fashion designer fulfilled by Persnickety only weeks before her passing on June 18, 2013. Wonderful women, who lived in Millie Flamm's neighborhood, wanted to do something to help her and her family. What started initially as the Princess Run, eventually became the successful foundation that is now Millie's Princess Foundation, an organization that is constantly seeking ways to partner with communities to help families in need. For all of us at Doug Smith Subaru, this has hit particularly close to home as one of our own, Nelson Mousques, a member of our Subaru Team, has been affected. His daughter, Sophia, just recently had her cancer relapse, after nearly 7 1/2 years and having been declared cancer-free. We feel for him and his family as they all deal with this devastating news. Despite all of this, Nelson is still one of the happiest people you will ever meet and is just an incredible example of persevering with a positive attitude. We are truly grateful to have been able to join Millie's Princess Foundation in offering our own $5,000 donation match to compliment their very generous contribution. Together we've been able to add $10,000 in donations for this sweet family. With incredible support from the local community, we were able to raise funds in excess of $17,000. We know how beneficial this will be for Sophia and her family at such a critical time in her treatment. We love you Sophia! We are all rooting for you.
---
Love Blooms at the VBHA Adult Autism Center - Heather D
This spring Doug Smith Subaru volunteers gathered at the Valley Behavioral Health Adult Autism gathered to plant flowers and shrubs to brighten the grounds of the center. The center is the first of its kind, addressing the gap of services that individuals with autism experience after age 21. The program provides meaningful activities and employment opportunities to help continue to support its members and their families through adulthood. The new center will have a library, fitness center, arts and crafts room, commercial kitchen, and more to provide activities and opportunities to its members. The center will also have a medical, dental, and hair cutting station to provide those essential services in a more comfortable environment. "Volunteers really play an incredible role in both the design and development of the adult autism program as well as even our planting event today. We are so grateful for Doug Smith Subaru who has helped bring many volunteers forward to help with us with our landscaping project," says Rebecca Brown, Interim President and CEO of the Adult Autism Council. Doug Smith Subaru is proud to be a community partner of the Valley Behavioral Health and the Autism Council of Utah, providing not only volunteer support, but also events and financial donations. Learn more about the Valley Behavioral Health Adult Autism Center at adultautismcenter.org
---
Bringing Utah's First Adult Autism Center to Life - Cheryl S
This month, the Autism Council of Utah and Valley Behavioral Health were excited to receive an extremely generous $40,000 donation from Doug Smith Subaru and Subaru of America to support the construction of a new adult autism center in Murray, Utah. With this donation, the Autism Council of Utah and Valley Behavioral Health have been able to make significant progress in the construction of a large teaching and experiential lifetime learning center specifically for adults with autism. We were so excited to be able to use this donation toward the Adult Autism Center of Lifetime Learning. This adult autism center is state of the art and the first of its kind in the United States. This center will give adults severely affected by autism a place to thrive and to help develop the best quality of life possible. The level of quality services in this program will raise the bar for services provided to adults with autism, helping empower them to become more independent, learn new skills, and not least of all have a happy, meaningful place to spend their day. Having these opportunities means everything to the adults in our program and their families. The Autism Council of Utah is proud to be a community partner with Doug Smith Subaru. Without the support of Subaru, we wouldn't be able to fund these life-changing programs for this vulnerable population. Doug Smith Subaru has been a generous yearly supporter of the Autism Council of Utah for 30 years, helping the autism community through financial donations, events, and service projects. The Doug Smith Subaru "Share the Love" donation is one of the main ways for us to support individuals with autism in the State of Utah. We are all volunteers at the Autism Council of Utah, so 100% of those funds go to help individuals and families affected by autism. The Autism Council of Utah, Valley Behavioral Health and the Pingree Center for Autism Learning join together in expressing a sincere "Thank you" to Doug Smith Subaru and Subaru of America for always being there for the Autism Council of Utah and our partners to help provide support and services to the families that need us the most. Together, we have been able to help make things better for thousands of families and for our community as a whole. Thank you, Doug Smith Subaru!
---
Doug Smith Subaru Helps Donate 620,000 Meals - Kendall F
In response to the COVID-19 crisis, Subaru America has donated 50 million meals to Feeding America to feed communities around the country. Doug Smith Subaru along with the Wasatch Front Subaru Retailers have teamed up to donate 620,000 of these meals to the Utah Food Bank. Thank you to the amazing teams who help coordinate these important efforts and to the amazing customers who help make these projects possible.
---
April is Autism Awareness Month - Autism C
Doug Smith is proud to sponsor the Autism Council of Utah. Every month of April is considered Autism Awareness Month to help promote autism awareness and help ensure all those affected by Autism Spectrum Disorder are able to achieve the highest quality of life possible. This month is meant to spread awareness, promote acceptance, and ignite change. Due to the recent COVID-19 outbreak, many of the Autism Awareness Month events planned by the Autism Council of Utah have been postponing, but efforts still continue to ensure awareness is spread and that those individuals with Autism Spectrum Disorder can receive the resources and healthcare they need during this time.
---
Doug Smith Subaru Supports Autism Council of Utah - Mikelle D
Doug Smith Subaru is proud to support the Autism Council of Utah. The Autism Council of Utah supports individuals of all ages who have or are affected by autism, or related conditions by providing support, resources, and programs. Some of the help they provide the community include autism conferences, trainings and workshops, representing the Autism Council of Utah in arenas such as the Utah Autism Initiative, the Governor's Commission for Early Childhood Development, Special Care Advisory Board, and more. They've also initiated several statewide projects such as the Autism specialty license plate, law enforcement training, and legislative education. Learn more about the Autism Council of Utah and how to show your support at autismcouncilofutah.org.
---