The 2022 Subaru Love Promise Customer and Community Commitment Award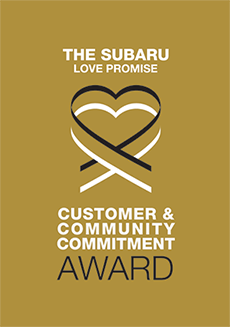 We've been nationally recognized for our dedication to our customers, our community, and the Subaru Love Promise.
We're honored to receive the 2022 Subaru Love Promise Customer and Community Commitment Award. This award nationally recognizes elite Subaru retailers who provide an exceptional customer experience at every interaction with Subaru. These retailers have also demonstrated an outstanding commitment to supporting passions and causes in their local communities in important areas such as the environment, community, health, education, and pets.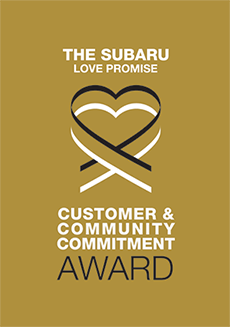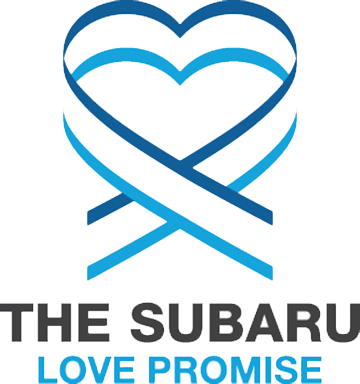 What is the Subaru Love Promise?
Subaru and our retailers believe in making the world a better place and the Subaru Love Promise is our vision of respecting all people. This is our commitment to show love and respect to our customers and to work to make a positive impact in the world.
How is Doug Smith Subaru dedicated locally to the Love Promise?
Our Love Promise can be seen in various partnerships with local charities and non-profits. We're grateful for the opportunity, not only to be a part of our community, but to serve it as well.
Brigham Young University, Alpine School District, American Fork High School Marching Band, Bingham, Highland & Cottonwood High Schools
Autism Council of Utah, Forever Young Foundation, Wasatch Adaptive Sports, Parkview Elementary
American Fork Hospital Cancer Center, Community Action, The Leukemia & Lymphoma Society - Utah Chapter, Millie's Princess Foundation
Love Promise Stories from Doug Smith Subaru
Subaru and Doug Smith Subaru believe in making a positive impact on the communities in which we live and work. We uphold that belief through our Love Promise Community Commitment. Every month, we select inspiring stories from customers and partners from around our area who strive to support our collective commitment and feature them here
Doug Smith Subaru loves Parkview Elementary! - Tierney M
This year for our Subaru Loves Learning month we have paired up with Parkview Elementary in Payson, Utah. According to AdoptAClassroom.org, an average of $750 is spent out of teacher's pockets to help supply their classrooms. We are hoping to relieve some of those expenses in our own community by partnering with Adopt-A-Classroom with a donation of $7500 to 15 classrooms at Parkview Elementary. This money will go to supplies and teaching tools that will help make a difference and enhance learning in the classrooms rather than money coming out of the pockets of teachers and families. In conjunction with that, we decided to also donate $75 for every service contract sold in August, which resulted in about $5300 which we used to order a list of items that teachers in each grade had come up with. We personally donated these items and received a "Victory Lap" around the school as the students and teachers thanked us and cheered. What an honor to be a partner of this school!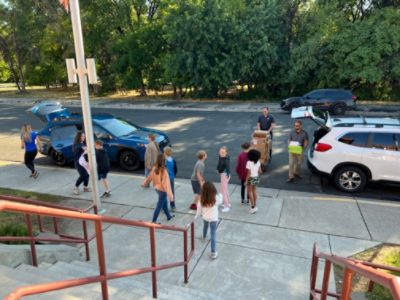 ---
Running for a Cause: Doug Smith Supports 2 Local Families During the Cedar Hills Fun Run - Mikelle D
During the month of June, Doug Smith Subaru had the incredible opportunity to take part in and proudly sponsor the Cedar Hills Fun Run, a local event benefitting two local families dealing with very difficult circumstances. The first is a small and humble family from Ukraine that gave up all their worldly possessions to escape the terror and destruction of their country to keep their two young daughters safe. The second is a local family from American Fork Utah, whose tragic accident resulted in a life-altering injury for their 16-year-old daughter. The first family's story is much too common during these times. Amid missiles and bombs exploding around their Kiev suburb home, Yuri Kalmazan and Albina Smykovska left Ukraine with a singular goal: to keep their two daughters, ages 3 and 8, safe. They called their neighbors in Kiev, telling them to help themselves to everything they owned, even the family business, as the Smykovska family did not expect to ever move back to Ukraine. Over a 10-day period, with only one small bag and a backpack to their name, the family made their way through Moldova, Romania, Hungary, Slovakia, parts of Austria, and into the Czech Republic. They boarded a flight from Prague to Paris, then Mexico City, finally making their way to Tijuana where, by a miracle, their passports were cleared to cross the border into the United States. They quickly ended up in Cedar Hills, Utah. The second family had tragedy strike during a family activity. Emily Traveller is a 16-year-old sophomore at American Fork High School. Emily is a light to all that she meets, whether with her family, passing someone in the hall at school, cheering on Friday nights, or with friends on the weekend. Emily is full of life. On Friday, April 22nd, while riding as a passenger in a side by-side utility vehicle Emily was involved in a roll-over accident. Her neck was broken in several places, causing paralysis from the shoulders down. This injury is life-altering for Emily and her family, requiring extensive rehabilitation and treatment. Although the Cedar Hills Fun Run event is small, it has been a wonderful way for families and the community to come together in a united cause. This year, Doug Smith Subaru not only sponsored the event, but also matched donations during the run, nearly doubling the donations received that night. Ronnie Proffit, Director of "The Fight" Charitable Foundation, said, "We are so grateful to Doug Smith Subaru for all the help and support they have given to the entire festival. They have helped these families immensely and were able to help raise $7,000 during this single event, which is a significant addition to all other fundraising efforts during the Cedar Hills Family Festival Week."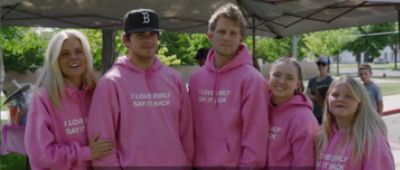 ---
Subaru donates blankets, art kits, and words of encouragement to American Fork Hospital - Tierney M
Every year, Doug Smith Subaru pairs with Subaru of America and The Leukemia and Lymphoma Society to find local hospitals that help those going through cancer treatments. This year, Doug Smith Subaru chose the American Fork hospital to donate blankets, art kits, and words of encouragement that were written by customers and employees. This June, we met with some of the staff and dropped off the blankets and kits. Everyone was so excited for the donations and assured us that they look forward to it every year. We are thankful to be a part of the community in these small ways and hopefully lighten the heavy burden that families go through with their loved ones battling cancer. As one of our notes stated, "you are tough, strong, and loved!" We agree!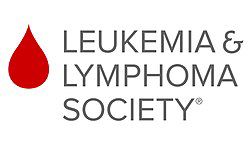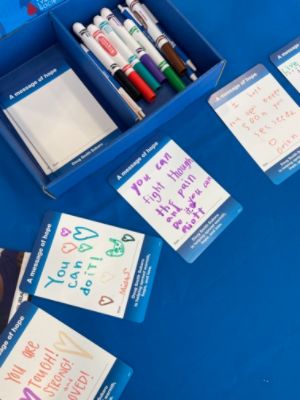 ---
Running to help 2 local children with cancer - Tierney M
On June 18, Doug Smith Subaru participated in the annual Millie's Princess Run. This day marked the 10th anniversary of the princess run for Millie and the 9th anniversary of her passing away. Millie's Princess Foundation was created to help Millie Flamm who was in the hospital at the time undergoing bone marrow treatment. The run was so successful that it continued to help a new family each year who had a child fighting cancer. This year there were 2 children chosen- Dane and Millie Jo - for the prince and princess of the run. There was a 5k and 2k suitable for all ages and went through Thanksgiving Point's Electric Park. The community rallied around these 2 children and dressed up as princes, princesses, superheroes, and mascots and played games, made crowns, got their faces painted, jumped in the bounce houses and ate from food trucks. There was a silent auction online as well, with tables full of donated items. Doug Smith Subaru and many other sponsors came together to help cover the costs of the event and 100% of the proceeds go to these 2 families and their fight to be cancer-free. Keep up the fight, Dane and Millie Jo! We are here to support you!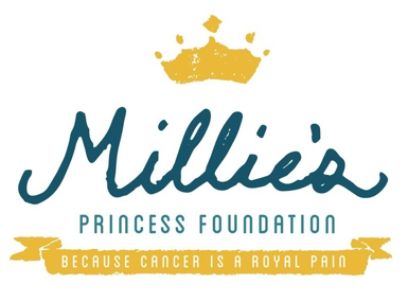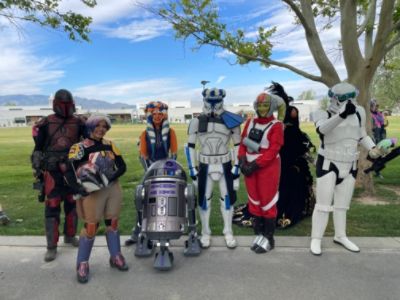 ---
Doug Smith Subaru helping Sammy fight cancer - Tierney M
For the past two years, Doug Smith Subaru has been a big supporter of Millie's Princess Foundation. Within this partnership, we have helped with the annual Skate for Cancer event that highlights Sammy, the beneficiary this year who is battling optic ganglioma cancer. Skate for Cancer is a fun event with food, live auction, raffle items and items for purchase while young ice-skaters put on a show for those on the bleachers. It was a blast! Last year we were able to help one of our own employees' daughters through this foundation and she is now cancer-free. This year we were able to match $5,000 and help raise over $18,650 during the month of May by selling t shirts, medals, and volunteering at the Skate for Cancer event to show our support. With this money, Sammy is able to help pay for treatments, transportation, medical bills, and anything she needs to fight this horrible cancer battle. Keep fighting, Sammy!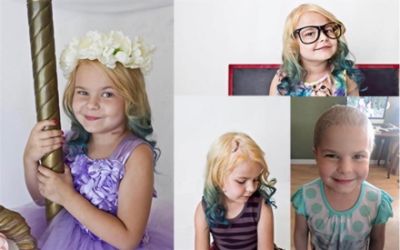 ---
Steve Young Ski Classic Event and Auction - Tierney M
Doug Smith Subaru has been a sponsor of the Steve Young Ski Classic for many years. We were able to support the event this year by cheering on the adaptive community as they raced Steve Young down the mountain at Snowbird, Utah. We have also contributed $10k annually to help fund transportation, equipment, lessons, accessibility and more to those with unique injuries and abilities that would prevent them from otherwise enjoying the outdoors. Steve Young himself has donated his time and money to raise awareness of the amazing resource that Wasatch Adaptive Sports has been to the adaptive community. The last couple years have been a struggle to raise funds for Wasatch Adaptive Sports due to Covid-19 restrictions, so we are happy to be back in person along with other sponsors to raise over $1 million (an all-time-high) from the live auction and other donations through the Steve Young Ski Classic. Thank you Steve Young, Wasatch Adaptive Sports, and Subaru of America for allowing us to help out the adaptive community. See you next year!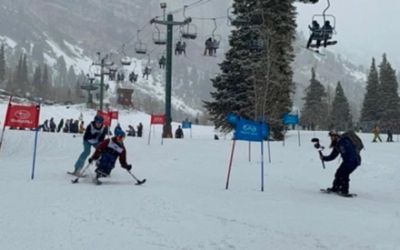 ---
Doug Smith Subaru Loves Wasatch Adaptive Sports - Tierney M
For the past 16 years, Doug Smith Subaru has been a huge advocate for Wasatch Adaptive Sports. Wasatch Adaptive Sports' mission is to "encourage individuals with adaptive needs and their families to realize their potential and engage in active living through recreational, educational and social programs." Doug Smith Subaru has donated over $100,000 over the years, which has helped provide equipment, transportation, and counseling to veterans and those with special needs. This past winter, Doug Smith Subaru's sales and service team members got to shadow ski and snowboard lessons provided by Wasatch Adaptive Sports to see firsthand the opportunity W.A.S. provides for the community. We were able to personally thank our Veterans for their service and talk to the members about their experiences. We are so thankful for the involvement we have had these past years to help accomplish the W.A.S. vision of "A community in which people of all abilities experience the power of recreation whenever and wherever they choose."
---
Doug Smith Subaru & Tabitha's Way Food Bank - Tierney M
Starting November 2021 until the end of the 2021 year, Doug Smith Subaru and their employees partnered with Tabitha's Way Local Food Bank North and the local community to gather much needed food and clothing items – 389 lbs. to be exact! For the month of November, Doug Smith Subaru also donated $50 for every service contract purchased through the dealership. With the service contract donation, Doug Smith Subaru was able to donate $3,350 which results in about 13,400 meals (1,700 families) provided to the community and those who are food insecure, homeless, or struggling. "Doug Smith Subaru consistently goes out of their way for their local community. Just recently, they held a food drive and donated money to us, Tabitha's Way Local Food Pantry North. They not only collected the food, but went out of their way during this busy season to bring it down to our Pantry to meet us all, and interact with our wonderful volunteers. The monetary donation they provided will feed over 1,700 families this coming year. Way to go you guys, keep up the good work!" -Tabitha's Way Local Food Pantry North Doug Smith Subaru is happy to be a part of this amazing community of selfless people and willing helpful hands. We are continuing to gather items until the end of the year, and plan on doing more food drives throughout the next year and more.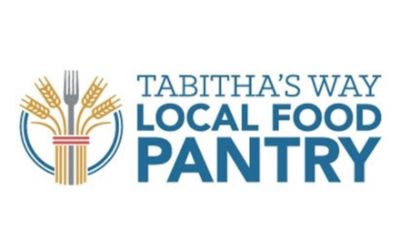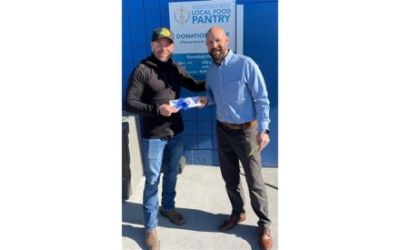 ---
Senior Dog Finds a Home Thanks to Doug Smith Suba - Shannon E
Hi, my name is Bermuda and I'm a ten-year-old mixed breed who came to the Humane Society of Utah in early September hoping to find a new home. Folks say that senior dogs are the hardest to adopt at any shelter because we come with a variety of health issues and I'm no exception to this rule! I have arthritis in my left hind leg, allergies, and was diagnosed with obesity, which means I am dangerously overweight and needed to improve my diet and exercise more to avoid heart disease and diabetes. I also have severe dental disease and a luxating patella. Utah Humane partnered with Doug Smith Subaru for their Subaru Loves Pets promotion in October, which allowed for my adoption fee to be waived and this helped increased my chances of finding a home. After getting sick and spending some time in foster care, I finally got adopted one month later. Thank you, Doug Smith Subaru for giving all us underdogs at second chance!
---
Doug Smith Subaru Adopts Park View Elementary - Shanna W
Park View Elementary has been fortunate this year to have Doug Smith Subaru adopt our school! They love learning and love helping schools. They collected donations from their employees and customers to provide needed school supplies for our teachers, staff, and students. Six of our teachers were granted $500 each that could be spent on items to supplement and enrich their curriculum. With the money donated, they have been able to purchase books, science materials, math manipulatives, and other supplies. In addition, all of our teachers were given Amazon gift cards to purchase something for their classrooms. Derek Schwendiman, General Manager of Doug Smith Subaru, and a team of employees made a special delivery to our school with a huge load of bright paper, paints, white board markers, and P.E. equipment. The Doug Smith team was greeted by four of our student leaders who expressed sincere appreciation for the gifts. One boy said, "I sure hope our class gets one of those new soccer balls," and was later pleased to find out they did get one. Another student told them, "We will really use these supplies. Thanks so much!" Mrs. Jasperson, a third-grade teacher, told the principal, "Wow, this is wonderful. I spend so much of my own money every year on extra things for my class... These donations help me out—a lot." "I appreciate that a big business like Doug Smith would do something for our school. This is so generous," stated Mrs. Barney, a second-grade teacher. "They don't even know us and did this. It's just so nice."Park View is a great school with wonderful families, but we fall into a difficult category concerning funding. We live in a catchment area that has a mix of middle-income families, but we also have many low-income families that struggle to make ends meet. Our school doesn't qualify for the extra funds that come from Title I, but we don't live in an area of affluence. This means that we do not receive the volume of donations that many of the schools in more affluent areas receive. This is why the donations and grant money given to our teachers from Doug Smith Subaru is all the more meaningful. Many employees and customers from Doug Smith had written notes of encouragement to our students and staff. These messages were arranged into a poster and delivered to our school with the other donations. It's so awesome to see the students and staff walk by and read those notes from people they don't even know, but who care about our school. One note reads, "Park View Rocks!" Well, it is likewise—Park View thinks "Doug Smith Subaru Rocks!"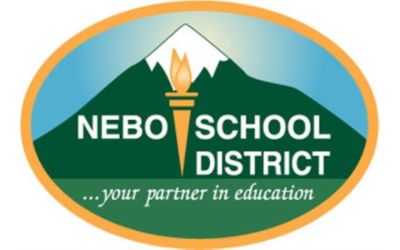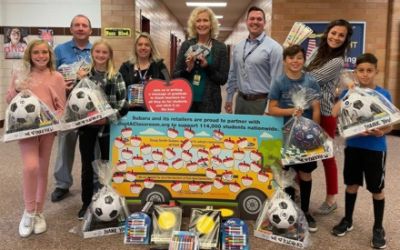 ---